It is with heavy heart that we say good-bye to Our Good Friend and Fellow Sertoman, Retired Assistant Chief Frank W. Borden.  Frank became a member of the Los Angeles City Fire Department SERTOMA Club on August 9, 2002.  His support will never be forgotten. 
Frank W, Borden
October 5, 1938 – April 9, 2021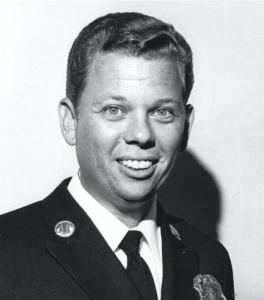 FRANK W. BORDEN was born in South Los Angeles to Stanley and Erika Borden, attended Vernon Avenue and 61st Elementary schools, John Muir Jr. High, and graduated in 1956 from Canoga Park High School. He attended UCLA and the University of San Francisco where he earned a Bachelor's Degree in Human Relations & Organizational Behavior. Frank was a lifeguard before joining the Los Angeles City Fire Department (LAFD), following in the footsteps of his father, who was an LA City firefighter. Frank reached his father's rank of Battalion Chief and both served at that rank at the same time, until Frank became an Assistant Chief.
Frank retired as an Assistant Chief in 1996 after 36 years of service to the Los Angeles Fire Department (LAFD), where he was an innovator in the field of emergency management most notable the Community Emergency Response Team (CERT), the Incident Command System (ICS) and the National Urban Search and Rescue Programs (NUS&R). He helped establish the LAFD Historical Society in 1996 and became its Director managing two fire museums, Old Fire Station 27 in Hollywood and Old Fire Station 36 in San Pedro City Hall, as well as overseeing the restoration of the historical Ralph J. Scott Fire Boat 2 in LA Harbor.
Frank loved the ocean and riding the waves, and all kinds of music from blues to alternative rock. He loved photography and not a day went by without him photographing somebody or something.  He loved traveling and his favorite spots were Maui and Yosemite. He used to say those places where "hints from God of what heaven would look like." Frank was a visionary and a friend to everyone he met.  Frank is survived by his wife of 20 years, Raquel Borden, and by his sons Frank and Michael; daughters Janice and Karen,  daughter-in-law Mariela Borden; five grandchildren (Olivia, Emma, Sean, Marissa and Orion), and brothers  Robert, Thomas, Ronald, and Richard and sister-in-law Felicia Borden, as well as cousins, nephews and friends.  His daughter Elaine Borden preceded him in death.